Welcome to SIZZLETOWN, the award-winning 'late-night call-in podcast', hosted by comedian and broadcaster Tony Martin, with Matt Dower on the 'pots n pans'. All the callers and guests are played by Martin, via the elaborate editing and sound design of fellow 'Get This' veteran Dower. What starts as a fairly straightforward concept (with just three sound effects) becomes steadily more complex, with full-blown musical numbers, multi-caller forums and a talking cat. WARNING: Frequent foul language, and concepts both adult and juvenile.
Episodes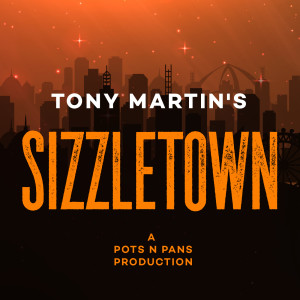 Wednesday Nov 03, 2021
Wednesday Nov 03, 2021
The Hater was unimpressed by our 50th episode, publishing guru Peter Meager has a proposal for Tony, and a first-time caller has news of a fake vaccine passport scam.
Monthly support | One off support